There's a bill moving through Congress right now that impacts all of us as veterans and union members. It's called The PRO Act and it's a once-in-a-generation opportunity to end many of the anti-union policies that have undermined middle and working-class veterans for generations.
You may not know it, but your voice as a union veteran carries weight. Your voice matters and now is the time to use it.
Congress has a patriotic duty to honor those who've served by giving them a ticket into the middle class and a pathway to the American dream. Unions are that ticket, and the PRO Act will make sure every veteran that wants can join a one.
We're asking for your help: Call your Member of Congress at 866-832-1560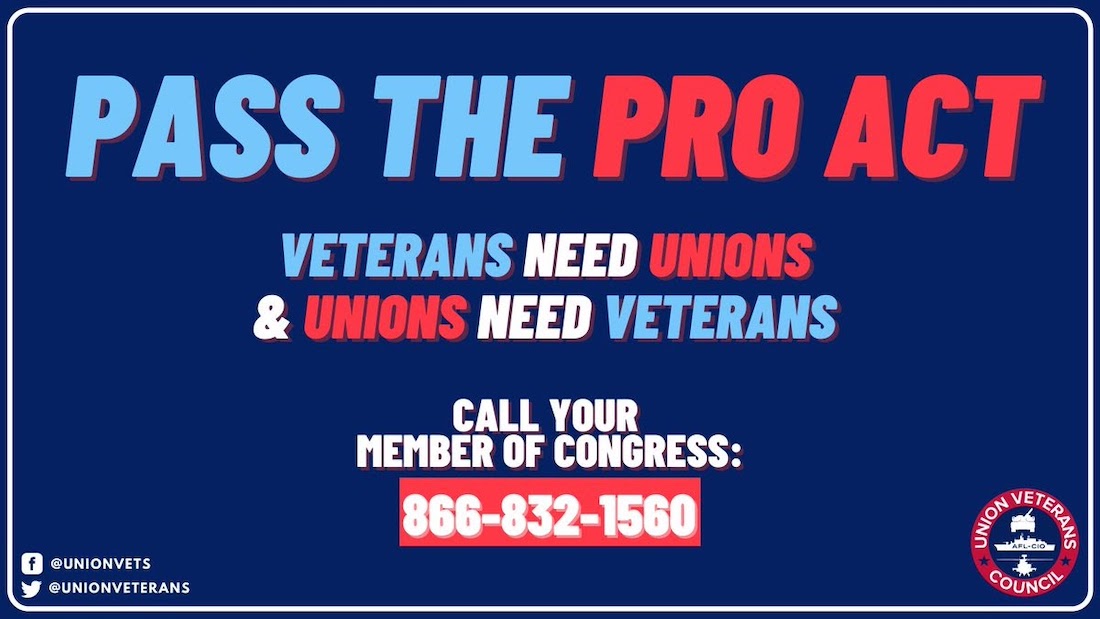 to the American Legion: his speech AFL-CIO President Richard Trumka said it best yesterday in
"Inequality and financial instability are among the most sinister enemies Veterans face when they take off the uniform. When our heroes return to civilian life, we know too many struggle to find a sense of purpose and feel a sense of respect. Inequality is at the root of indignity."
.now , the American Legion and "America's labor movement are not only close in proximity, but also in a common mission." It's the common mission of a fair, equitable society. With the PRO Act on the floor of the House of Representatives, the time to make that mission a reality is reminded us The PRO Act will help end the indignity too many veterans experience. As President Trumka
Can we count on you to call your member of Congress and post online in support of union veterans?